About us
Welcome to Pelican Garden Assisted Living community
in Sebastian Florida
​
We are located on Florida's Treasure Coast in Indian River County. Sebastian Florida is a beautiful, safe area on the central east coast of Florida between Vero Beach and Melbourne Florida. Only a little over an hour from Orlando. We enjoy the soft tropical breezes from the intercoastal waters of the Indian River Lagoon and Sebastian River. Sebastian is well known for it's many treasures that have washed up on the shores of the Sebastian Inlet, its excellent fishing and for its beautiful nature preserves. Sebastian is also home to America's first National Wildlife Refuge, Pelican Island. There is no better place to live!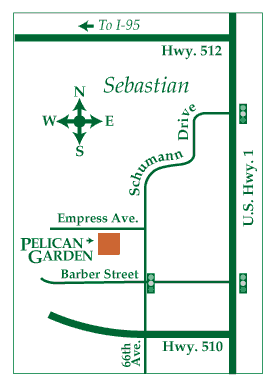 Thank you for visiting our website! Since 2004, when we built and opened Pelican Garden Assisted Living, our purpose was to provide seniors an affordable, secure, friendly, and loving environment. A place where they can live with dignity, encouragement, camaraderie and engagement with life. Our mission is the same today as it was back then. Every day we strive to enrich the life of each resident and provide them with exceptional supervision and care.
Located in Sebastian, Florida, Pelican Garden is in a quiet residential neighborhood, just 14 miles north of Vero Beach and 20 miles south of Palm Bay. Our warm Florida home-style community is designed so everyone gets the attention they deserve. After all, they've been giving to others their entire life!
Many services and amenities are included in our standard rate. Meals are freshly made, and snacks are always available. I know the food is good because I eat there often! Supervised medication management will ease your concerns about your loved one missing any medication. Laundry and cleaning services are provided and a shower schedule will ensure their well-being. We encourage residents to participate in daily activities and outings and they enjoy seeing the many various quality entertainers who come to Pelican Garden to perform. Of course, there's always time to nestle up to an enjoyable book in their room, on the back porch or in one of our many sitting rooms. Cable TV is available to all residents and, for the Internet folks, we provide wireless Internet service as well.
All the above is included for one affordable monthly rate. And, we don't have admission fees or upcharges!
Many of the staff at Pelican Garden have been here for multiple years. Not only do they provide quality care, they deliver it with compassion. I have seen how quickly they get attached to new comers…especially with a smile. So as a partner (me and my father-in-law) that has hands on with the business, I am especially grateful to watch firsthand how our team loves what they do. We won't have it any other way!
I encourage you to look around our site and let us know if you have any questions. We're a phone call away (ask for Margaret or Dalia) or better yet come on over. Our doors are always open for your visit. If you're around during lunchtime, you'll see and taste first-hand why I like to eat here.
Thanks again for your internet visit. We look forward to hearing from you!
Kindest regards,
Don Wright
Managing Partner